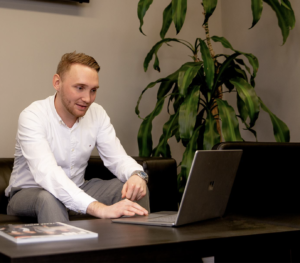 Senior support (Joey Verbeek) 'Ons team is niet groot, maar we opereren wel groots.' Cloudoperator van de supportafdeling van Trimessa. Het Rotterdamse bedrijf levert service op het gebied van ICT-Cloud diensten.
'Onze klanten werken allemaal in de Cloud. Dus als je een internetverbinding hebt kan je altijd bij je bestanden en programma's. Een goed voorbeeld is Microsoft 365 en VoIP. Daar werken onze klanten het meest mee', aldus Senior support Verbeek. 'Bij ons werk komt veel te kijken. Wij bieden onze klanten de juiste support aan voor alle ICT-gerelateerde problemen. Onze afdeling staat elke dag klaar om alle problemen zorgvuldig en snel op te lossen.
' Sfeer '
Werken bij Trimessa voelt niet als werken', vervolgt Verbeek. 'De sfeer is zo fijn, we zijn met elkaar bezig om onze producten te verbeteren. En niet alleen van 9 tot 5. De lijntjes zijn heel kort. Dat is voor ons fijn, maar vooral ook voor onze klanten in binnen- en buitenland', vertelt de 25-jarige Verbeek. Benieuwd naar hoe Trimessa is ontstaan en wat de visie is van het bedrijf? Klik dan hier!
Benieuwd naar wat wij nog meer aanbieden klik op deze link https://trimessa.nl/diensten/. Onze medewerkers hebben de juiste expertise om onze klanten de beste service & ervaring te geven. Wilt u meer weten over de diensten of heb je nog andere vragen? Bel dan naar 088 – 2015 205 ( sales ) of mail naar sales@trimessa.nl voor meer informatie.